Description
One only D5C with with slight cabinet damage as per pictures.
The damage is only cosmetic and does not effect the performance or warranty of the unit.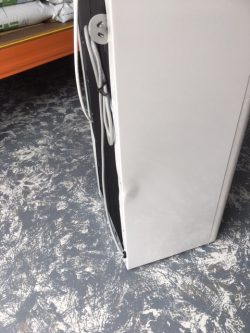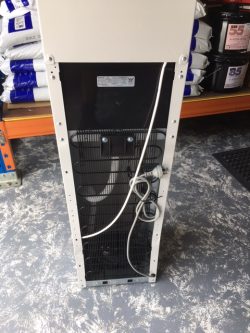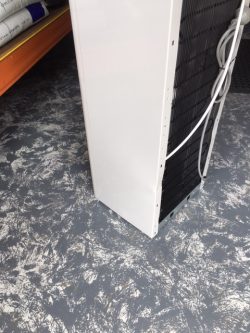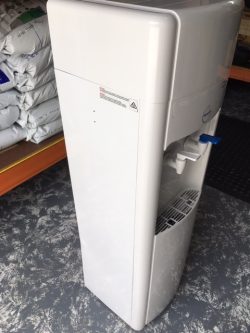 Water Works D5C floor standing water cooler.
The Waterworks D5 Series POU [point of use] water coolers are Australia's number one selling, mains connected, drain free units. Preferred by the filtration industry because of their build quality, reliability and their huge 12 litre cooling reservoir, they provide a cost effective means of supplying endless Cold and Ambient water without the hassle of storing and changing spring-water bottles. They are also ideally suited to the addition of filtration system on the incoming water supply line. The D5 units have a drip tray to catch excesses water so there is no need for a drain pipe, which makes this unit easy to install in more locations.
Mains connected POU quality Korean unit, the D5C is currently the best seller on the Australian market.
Removable 12Litre reservoir for ease of cleaning / sanitisation and also high storage.
With this unit you can choose between the following water choices Cold or Ambient Room temperature.
3 Year comprehensive warranty.
Delivers 44 x 170ml size cups chilled water per hour.
Front and top panels are UV treated ABS and side panels are zinc coated steel sheets covered in electrostatically applied high polymer polyester resin.
Hideaway controls with easy access to thermostat and fuse.
Quality Korean compressor with ozone friendly R134A gas.
This is a proven market winner, with over 12 years of distribution into Australian market it is the biggest selling POU unit at the moment.
Unit dimensions: 31 x 31 x 104cm [L x W x H]
Connection Part Kits – a variety of fittings and tubing are available in our online store to connect this unit to any cold water line if you need additional fittings.
Please contact us if you need help with a connection or water filter kit.